2022
Working with HIV AIDS affected children
Biotex had the privilege to work with the PALAWI project and provide for children affected with HIV Aids.
Read more
One woman's crusade to provide care for abandoned children of parents with the HIV infection has transformed the lives of many such poor and marginalised.
Mangal Shah today at 69 had set up the PALAWI project in 2001 under the aegis of the Prabha-Hira Pratisthan at Pandharpur in Maharashtra.
Today the project is home to over 125 children abandoned and homeless and with the HIV infection.
Palawi believes that all children have a fundamental rights to a loving, fun-filled childhood with access to health, education, and a safe and stigma free environment. Palawi has given a lifetime commitment to provide for their educational, nutritional, medical and recreational needs. We also aim at bringing awareness on HIV/AIDS and to sensitise the general population to the prevalence of HIV.
BIOTEX with its core philosophy of nurturing health with nutritional support commenced supplies of its flagship and advanced product - NANO CURCUMIN in late 2021 as a voluntary donated support to the cause of the project.
Contributing in a small way to help the children enhance their immune system and provide some succour to these children and totally supping the inspiring work of Ms Mangal Shah and her team members.
After checks on the administration of the NANO CURCUMIN to these children (mixed with their milk and food and water). BIOTEX further supplied more quantities of NANO CURCUMIN.
In a visit to the home of these destitute children in June 2021, and based on the feedback from the Honorary Secretary - Ms. Dimple Ghadge - BIOTEX will continue to support these children with our NANO CURCUMIN regularly to them.
Here is what the Founder Ms Mangal Shah and her daughter, Ms. Dimple Ghadge had to say:
2021
Formulations for all
A project run by Ms Global Green Company Limited - (A Thapar group company) at Venkatapur, Telangana - was executed by Biotex over a period of 6 months.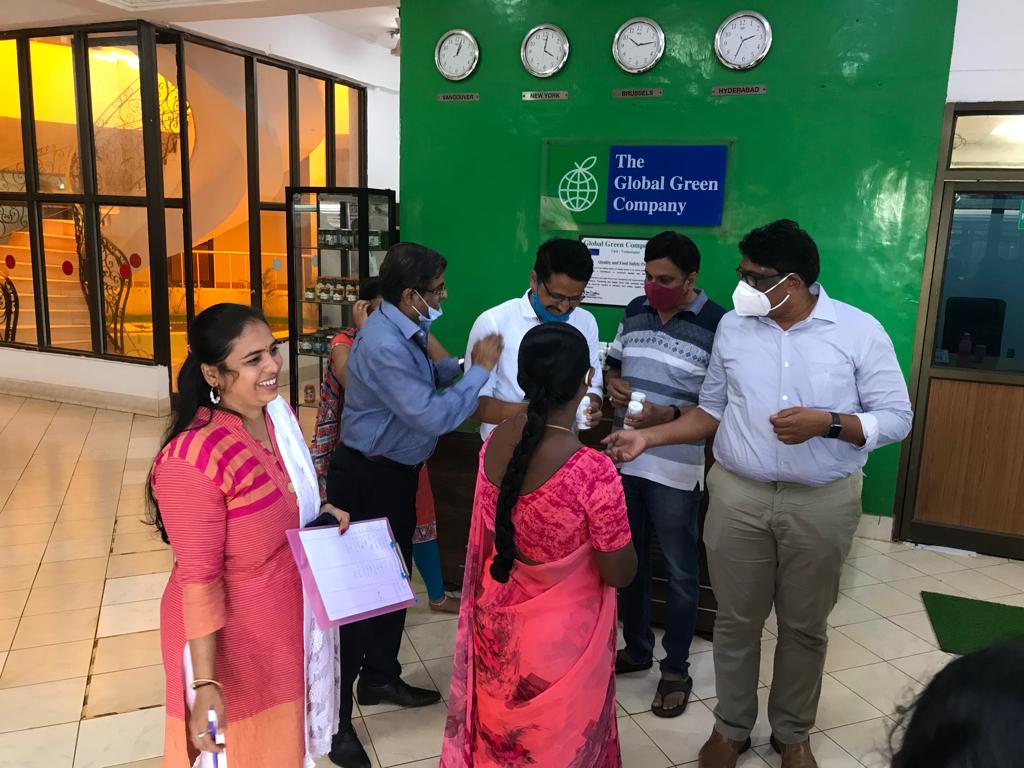 An awareness camp on health and malnutrition was organized by Ms Global Green Company limited (A Thapar group company) for the benefit of around 200 local female villagers in June 2021.
The camp facilitated the medical advisor of Biotex- to interact and discuss all the health issues and problems generally encountered by these villagers.
Data on their social, regional, and cultural profiles along with the issues of:
Nutrition intake in their diets, health issues and challenges faced by them in their daily life were analyzed.

Based on this interaction with them a recommendation for the introduction of specific multi vitamin, protein and micronutrients lacking in their diets was made to the company.
Ms Global Green Company tasked Biotex with the development of specific formulations to serve the needs of these 200 villagers for a six-month period
Magnesium complex

Vma Complex - minerals and amino acid complex.
Post the supply and distribution of these dietary supplements a second interaction with them was organized and feedback obtained, and further recommendations were given to them on the supplements being provided and manner of intake etc.
The overall response and feedback of the villagers and the benefits of such dietary nutrition fortifications engineered by Biotex- was extremely positive.
Biotex aims to further increase the reach of such programmers and help our rural population derive the maximum benefit from advanced nutritional formulas.
With the development of our Nano curcumin - the-particle sizes of the standard curcumin are reduced to 10 nano meters in size whereupon the bioavailability is enhanced greatly as this form of nano curcumin is highly water soluble.
Biotex pioneered the development of nano technology for herbal drug delivery systems and with the introduction of our nano curcumin ™ the paradigm shift in curcumin delivery to the body was established.
Curcumin as we all know (extracted from the turmeric root) has been well researched over many years worldwide for its various health benefits - being a potent anti inflammatory and antioxidant- with supportive benefits for gut health, immunity, and brain health. However, curcumin is poorly absorbed by the body as it is rapidly eliminated from the body and is often made with added catalysts like black pepper extract to boost its "bioavailability"
2019-2020
Nanocurcumin
Biotex had the privilege to work with the poorer sections of our society by distributing our nano curcumin during the recent covid pandemic, with great results by way of quick and fast improvement in their health post covid 19.
ONGOING
Unhinged Immunity
At Biotex we are also currently addressing the overall immune health and general wellbeing of several children at the Palawi, (Prabha Hira Prathishtan) near Solapur, Maharashtra.
Among our other products, we aim to use our the advanced formulations to,
Detox our bodies constantly exposed to environmental toxins,

Fortify our bodies with essential micronutrients (lacking in today's modern diets)

Improve our gut health and brain health,

Build up nutrition through quick absorption amino complex formulation,

Balance our sleep, offset exposures to Wi-Fi, improve hormonal balance,

Remove candida fungus and other fungi that are a threat today,

… and much more.
All products are made after considerable research into the pressing health issues we are faced with - and address all facets of health today.